Designed to raise your voice anywhere. Our PA System will rise to the challenge whether you want to give a lecture, speech, or just sing a song in karaoke mode.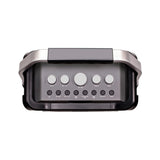 PA Systems
The Voice Amplifier Portable Bluetooth® PA System
Details
60 Watts RMS Output Power
Full-Range Woofer & Integrated Tweeter
UHF Microphone & Remote Control Included
Equalizer 
Power Bank
Recording Mode
USB Port & Micro SD slot for audio play
NFC™
True Wireless Stereo
Hands Free
Description
The Voice Amplifier is an all in one Portable PA System, designed to amplify your voice in a compact and easy to carry set. Enjoy 60 watts of power and an UHF (Ultra High Frequency) microphone that will make your voice sound loud and clear, while you move freely without wires.
We have dedicated customer service for you at all times. For any questions or concerns contact us at support@aqstypro.com    
Output Power
60 W RMS
Transmission

3/8"
Drivers Size
6 1/2" Full-Range Speaker
2" Tweeter
Bluetooth® Version
4.2
Bluetooth® Operating Range
Up to 50 ft
Microphone Radio Frequency
UHF
Microphone Operating Range
Up to 100 ft
Battery Capacity
6000 mAh
Charging Time
4 - 5 hrs
Play Time
6 - 8 hrs
Dimensions (W x H x D)
11.5" x 14.8" x 6

Weight
11.48 lbs

Inputs
USB port, Micro SD Card Slot,
3.5 mm Stereo Mini Jack (AUX),
1/4" Stereo Jack (TRS),
15V Charging Jack
- The Voice Amplifier Portable Bluetooth® PA System
- Remote Controller
- 3.5 mm AUX Cable
- UHF Long Distance Microphone
- 15V AC Adapter (Charger)
- Instructions Manual
Shipping:
Continental USA: We offer free standard shipping on all continental USA orders over $75.00. Orders below $75.00 have a $7.00 flat rate shipping charge. We dispatch orders in 1-2 business days and standard shipping takes about 3-7 days from dispatch to delivery.
We also offer express shipping which you can calculate at checkout.
Alaska & Hawaii: A flat rate of $15.00 is charged for packages under 10lbs and $35.00 for packages 10lbs and above.
Currently we do not ship outside the US.
Returns:
Purchases made on the Aqsty Pro website may be returned for a refund within 45 days. You can start a return here.
For more detailed information please visit our shipping and returns policies.
Supreme sound, awesome
range.
Our Portable PA is boosted by a massive 6 1/2" full-range woofer and complemented with a 2" tweeter. Not only it will be like a megaphone to your voice but also allow you to enjoy your music with powerful and smooth audio. The UHF microphone allows you to separate from the speaker up to 150 ft so you feel free to move.
Karaoke Mode
Press a button and automatically lower the background music so you can show your talent and the only thing that gets highlighted is your voice.
Remote Control
Manage the volume, modes, and tracks even away from the speaker system. Perfect for any public address situation.
Recording Mode
Record a lecture or a fun night of karaoke and save the file with Recording Mode. You can re-play it or transfer the file with a Micro SD card.
True Wireless Stereo
Connect two speakers for an expanded experience and increase your reach. Amplify your voice with 120 watts of powerful stereo sound.
DISCOVER MORE FEATURES
At Aqsty Pro® our mission is to deliver sound systems equipped with the functions you need.
Bluetooth® 4.2
Built with a trustful, good quality Bluetooth® chip that will get you the quickness, range and practicality you need.
DSP
A digital signal processing microchip to process data efficiently, and rectify sound defects.
NFC™
Put your NFC™ enabled devices close to the K60 to connect in seconds.
Equalizer
Personalize the sound you play, managing low, medium & high frequencies through the incorporated controllers.
Live Mode
Preset equalization highlights medium and high frequencies so that your speaker delivers a powerful sound on the outdoors.
Power Bank
Connect a cable and recharge any device through the USB-A port.
Extended Battery
Enjoy up to 8 hours of playtime, don't worry that the sound will die in the middle of your lecture or the party.
Fast Charge
15V DC input to charge the full battery in 3 hours.
Hands Free
Get calls, answer with a click and speak through the built-in microphone.
Auto Turn Off
The set turns off automatically after 10 minutes of being disconnected from an audio source to save energy.
USB Play
USB-A input so that you have more playback options.
Micro SD
Insert your Micro SD card to play tunes or to save the files you record on Recording Mode.
MIC
1/4" TRS jack line in to connect any wired inputs.
AUX
3.5 mm stereo jack for practical and quick wired connections.
ALWAYS FAIRLY PRICED
Our business model is Direct To Consumer. Meaning there's no middle man or unnecessary markups. And those savings are passed down to you. Never worry about digging a hole into your wallet or searching for discount coupons. The price is already irresistible.