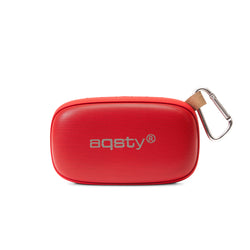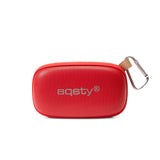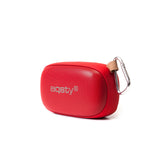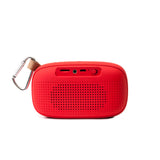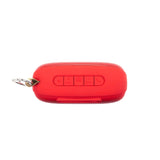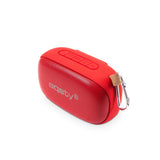 The FM Radio Bluetooth® Speaker
Aqsty Pro's The FM Radio Bluetooth® Speaker is one of our most portable speakers, featuring a great sound in a small and lightweight piece. Equipped with two full-range speakers and a Digital Sound Processor, it delivers a realistic stereo sound.
It has a hidden function, a Radio FM receptor so you can stay connected to news or your favorite radio music stations. You can also use the Micro SD slot and the 3.5 mm AUX input to play music.   
Output Power
9W RMS
Bluetooth® Version
4.2
Use Operation Range
Up to 40 ft
FM Radio Band
87.5 - 108 MHz
Battery Capacity
2000 mAh
Charging Time
2 - 3 hrs
Play Time
4 - 5 hrs
Dimensions (W x H x D)
4.8" x 2.8" x 2"

Weight
8.8 oz
Inputs
Micro USB Port, Micro SD Card Slot,
3.5 mm Stereo Mini Jack (AUX)
- The Aqsty Pro® 3010 Bluetooth® Speaker
- 3.5 mm AUX Cable
- Micro USB Cable
- Aluminum Carabiner
- Instructions Manual
Stay updated with FM Radio.
The Aqsty Pro 3010 Bluetooth® Speaker is built with a FM Radio receptor so you can stay in touch with what's going on in the world. A portable accessory that you can trust with a realistic stereo sound produced by two full-range speakers.
Radio FM
Click a button and switch to radio FM. Stay connected to live news and stations from frequencies 87.5 - 108 MHz.
Extra Portable
Carry this speaker hooked to your outfit or accessories with the included carabiner, you won't even notice it is there.
Extended Battery
Make it your companion for the day. Get up to 8 hours of playtime, whether you are playing wirelessly through Bluetooth® or connected to Radio FM.
DISCOVER MORE FEATURES
At Aqsty Pro® our mission is to deliver sound systems equipped with the functions you need.
Bluetooth® 4.2
Built with a trustful, good quality Bluetooth® chip that will get you the quickness, range and practicality you need.
DSP
A digital signal processing microchip to process data efficiently, and rectify sound defects.
Stereo Sound
Two full-range speakers act independently to reproduce audio realistically and as the artists intended.
Anti Shock
Trust your audio will be safe. Its design and construction makes this speaker anti shock, resistant to hits and drops.
Hands Free
Get calls, answer with a click and speak through the built-in microphone.
Auto Turn Off
The set turns off automatically after 5 minutes of inactivity to save energy.
Micro SD
Availability to insert your Micro SD card and play any files you want.
AUX
3.5 mm stereo jack for practical and quick wired connections.
Feather Weight
Take sophisticated sound with you on a device that weighs the same as your phone.