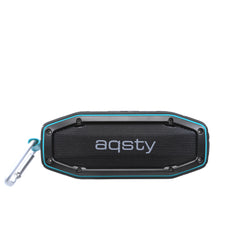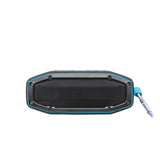 The Explorer Waterproof Bluetooth® Speaker
Aqsty Pro's The Explorer Bluetooth® Speaker allows you to take great sound wherever you go. It is a tiny accessory that you can easily carry, and it's made with a strong and resilient Anti Shock rubber protection to make all of your adventures easier, not harder.
Its specs make this speaker perfect for outdoor activities like hiking, biking, running, or just walking. All this, without sacrificing good quality sound.  
Output Power
10 W RMS
Waterproof Level
IPX6
Bluetooth® Version
4.2
Use Operation Range
Up to 40 ft
Battery Capacity
2000 mAh
Charging Time
2 - 3 hrs
Play Time
10 - 12 hrs
Dimensions
6.1" x 2.4" x 2"
Weight
10 oz
Inputs
Micro USB Port,
3.5 mm Stereo Mini Jack (AUX)
- The Aqsty Pro® 4010 Bluetooth® Speaker
- 3.5 mm AUX Cable
- Micro USB Cable
- Aluminum Carabiner
- Instructions Manual
Waterproof IPX6
Resistant to water jets from any direction, it will hold up to any test. A trustworthy companion that you want to take everywhere.
Anti Shock
Overcome the toughest conditions. Made with a rubberized case it will withstand accidental drops, friction with rough objects and contact with dust.
Extra Portable
Carry this lightweight speaker attached to your backpack, bike or gear. Just anchor it with the included aluminum carabiner.
Extended Battery
Extended battery for extended adventures. Get up to 12 hours of playtime, it's enough to worry about your phone's battery.
DISCOVER MORE FEATURES
At Aqsty Pro® our mission is to deliver sound systems equipped with the functions you need.
Bluetooth® 4.2
Built with a trustful, good quality Bluetooth® chip that will get you the quickness, range and practicality you need.
DSP
A digital signal processing microchip to process data efficiently, and rectify sound defects.
Stereo Sound
Two full-range speakers act independently to reproduce audio realistically and as the artists intended.
Hands Free
Get calls, answer with a click and speak through the built-in microphone.
Auto Turn Off
The set turns off automatically after 15 minutes of being disconnected from an audio source to save energy.
AUX
3.5 mm stereo jack for practical and quick wired connections.
Feather Weight
Take sophisticated sound with you on a device that weighs the same as your phone.