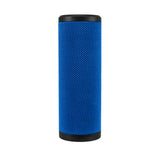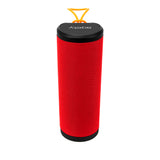 4020 Waterproof Bluetooth® Speaker
The Aqsty Pro 4020 Bluetooth® Speaker features a cool and ergonomic design so you can take it with you wherever you want. Practical enough to use it as an extension of your personal devices or to bring the sound to any party.
Reproduce audio through wireless pairing or connect an AUX cable and keep things simple. Dual full-range speakers produce loud and powerful sound in a speaker the size of a bottle.    
Output Power:
10 W RMS
Waterproof Level:
IPX4
Bluetooth® Version:
4.2
Use Operation Range:
Up to 40 ft
Battery Capacity:
2000 mAh
Charging Time
2 - 3 hrs
Play Time
10 - 12 hrs
Dimensions (W x H x D)
2.4" x 2.8" x 2.2"
Weight
12.8 oz
Inputs
Micro USB Port,
3.5 mm Stereo Mini Jack (AUX)
- The Aqsty Pro® 4020 Bluetooth® Speaker
- 3.5 mm AUX Cable
- Micro USB Cable
- Carrying Rubber Bands
- Instructions Manual
Take the fun anywhere.
Enjoy great quality audio in a super practical and fun wireless speaker. Its design and dimensions will allow to take it wherever you want, whether you need to sound up an indoor party or set the mood for a fire in the woods.
Even the craziest party needs sharp sound.
Enjoy a powerful, punchy sound yet clear and pleasurable. The sound of the 4020 is powered by 2 full-range stereo speakers and tuned up by a digital sound processor for a clear and neat audio experience.
Waterproof IPX4
Splash it and get it wet. The 4020 will withstand splashing drinks or water so you can have fun and the party continues.
True Wireless Connection
Expand the reach of the music and double the fun by pairing two speakers. You'll get a total of 20 watts of loud and punchy sound.
Extra Portable
With its compact and practical design you can fit the speaker pretty much anywhere.
Extended Battery
Outlast everyone. Get up to 12 hours of playtime and keep things fun and exciting. The music won't stop.
DISCOVER MORE FEATURES
At Aqsty Pro® our mission is to deliver sound systems equipped with the functions you need.
Bluetooth® 4.2
Built with a trustful, good quality Bluetooth® chip that will get you the quickness, range and practicality you need.
DSP
A digital signal processing microchip to process data efficiently, and rectify sound defects.
Stereo Sound
Two full-range speakers act independently to reproduce audio realistically and as the artists intended.
Hands Free
Get calls, answer with a click and speak through the built-in microphone.
Auto Turn Off
The set turns off automatically after 15 minutes of being disconnected from an audio source to save energy.
AUX
3.5 mm stereo jack for practical and quick wired connections.
Feather Weight
Take sophisticated sound with you on a device that weighs the same as your phone.