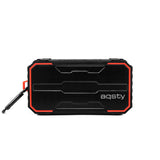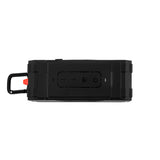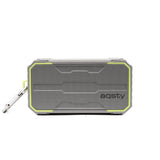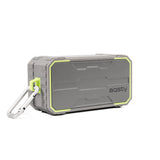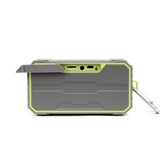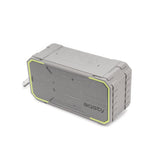 2030 Waterproof Bluetooth® Speaker
The Aqsty Pro 2030 Bluetooth® Speaker is an extra portable and compact speaker that will catch you by surprise with a clear, balanced and powerful sound. 
It features resistant rubber protection and it is Waterproof IPX5 so you can take the sound to challenging environments, yet it has a solid structure and design making it perfectly usable for homes and offices. Reproduce audio wirelessly, through a Micro SD slot or a 3.5 mm AUX input.   
Output Power
10 W RMS
Waterproof Level
IPX6
Bluetooth® Version
4.2
Use Operation Range
Up to 40 ft
Battery Capacity
2000 mAh
Charging Time
5 - 6 hrs
Play Time
8 - 10 hrs
Dimensions (W x H x D)
5.1" x 2.7" x 1.9"
Weight
10.9 oz
Inputs
Micro USB Port, Micro SD Card Slot,
3.5 mm Stereo Mini Jack (AUX)

- The Aqsty Pro® 2030 Bluetooth® Speaker
- 3.5 mm AUX Cable
- Micro USB Cable
- Aluminum Carabiner
- Instructions Manual
Crystal clear sound in a versatile speaker.
The Aqsty Pro 2030 Bluetooth® Speaker provides a clear, smooth sound and a realistic experience through dual full-range stereo speakers with enough power to use it on different settings. Pair it with your phone or computer to fill your home with music, boost your workout or just take it in an adventure on the outdoors.
Super lightweight, but not fragile.
Enjoy the versatility of the 2030 not only on closed settings but also as an accessory to spend a good time in adventure, it is built with shock resistant materials while being light and easy carrying.
Waterproof IPX5
Resistant to water jets from any direction, the 2030 will hold up to any test. A trustworthy companion that you want to take everywhere.
Anti Shock
Endure any adventure. Made with an aluminum structure and covered with a rubber protection, it is light and shock absorbing.
Extra Portable
Lightweight, has a carabiner, and it's made with resistant materials. Now you can have great sound in a practical, super portable speaker.
Extended Battery
Go long times without charging it. Whether you use it all day at home, or take it on a long trip, you can enjoy up to 10 hours of play time a single charge.
DISCOVER MORE FEATURES
At Aqsty Pro® our mission is to deliver sound systems equipped with the functions you need.
Bluetooth® 4.2
Built with a trustful, good quality Bluetooth® chip that will get you the quickness, range and practicality you need.
DSP
A digital signal processing microchip to process data efficiently, and rectify sound defects.
Stereo Sound
Two full-range speakers act independently to reproduce audio realistically and as the artists intended.
Hands Free
Get calls, answer with a click and speak through the built-in microphone.
Auto Turn Off
The set turns off automatically after 15 minutes of being disconnected from an audio source to save energy.
Micro SD
Availability to insert your Micro SD card and play any files you want.
AUX
3.5 mm stereo jack for practical and quick wired connections.
Feather Weight
Take sophisticated sound with you on a device that weighs the same as your phone.