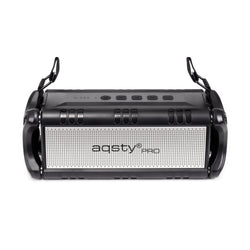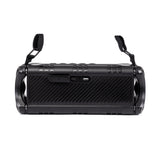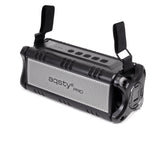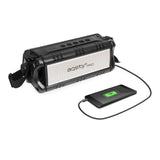 The Powerful Waterproof Bluetooth® Speaker
With Aqsty Pro The Powerful Waterproof Bluetooth® Speaker bring the power to any party, gathering or just wherever you need potent sound. It is designed for wide spaces. However, the sound is clear enough for any setting. It is easy to carry and Waterproof IPX5, making it easy to sound any party, barbecue or a day at the beach.
It has all the features you want in a portable speaker such as being waterproof, a Power Bank, and Hands Free function, but with a boost of 40 Watts of real power and Extra Bass.   
Output Power
40 W RMS
Transmission
3/8"
Drivers Size
2 3/4" Full Range Speaker (2 in Total)
1 3/16" Tweeter (2 in Total)
Waterproof Level
IPX5
Bluetooth® Version
4.2
Use Operation Range
Up to 150 ft
Battery Capacity
4000 mAh
Charging Time
4 - 5 hrs
Play Time
6 - 8 hrs
Dimensions (W x H x D)
12.55" x 4.7" x 4.6"

Weight
4.85 lbs
Inputs
USB-A Port, USB-C Port,
3.5 mm Stereo Mini Jack (AUX)
- The Aqsty Pro® 5010 Bluetooth® Speaker
- Built-in Carrying Nylon Strap
- USB-A to USB-C Cable
- 3.5 mm AUX Cable
- Instructions Manual
Waterproof IPX5
Enjoy the versatility of a waterproof speaker. Resistant to water jets from any direction, the powerful will hold up to the test.
True Wireless Stereo Pairing
Don't let power be a problem. Connect two speakers for a massive output power of 80 watts of pure quality audio. Loud and clear high frequencies, deep and powerful bass.
Live Mode
Press a button and access a preset equalization that highlights medium and high frequencies so that your speaker delivers a powerful sound on the outdoors.
Extended Battery
Take the power wherever you want, it will last up to 8 hours of play time. Potentially an entire night of partying or a whole day at the beach.
DISCOVER MORE FEATURES
At Aqsty Pro® our mission is to deliver sound systems equipped with the functions you need.
Bluetooth® 4.2
Built with a trustful, good quality Bluetooth® chip that will get you the quickness, range and practicality you need.
DSP
A digital signal processing microchip to process data efficiently, and rectify sound defects.
Extra Bass
Enjoy powerful and deep low frequencies boosted by dual passive radiators.
Power Bank
Connect a cable and recharge any device through the USB-A port.
Fast Charge
USB-C input to charge the full battery in 4 hours.
Hands Free
Get calls, answer with a click and speak through the built-in microphone.
Auto Turn Off
The set turns off automatically after 10 minutes of being disconnected from an audio source to save energy.
USB Play
USB-A input so that you have more playback options.
AUX
3.5 mm stereo jack for practical and quick wired connections.